/
/
/
/
Household Hazardous Waste Collections
Household Hazardous Waste Collections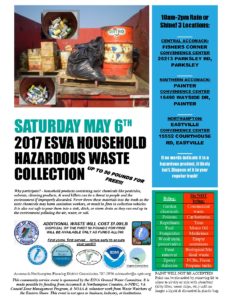 The 2017 H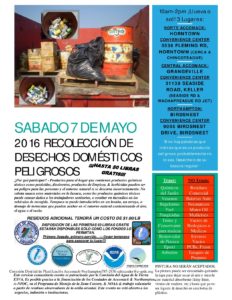 ousehold Hazardous Waste Collection was held Saturday May 6 from 10am to 2pm
Why participate? – household products containing toxic chemicals like pesticides, solvents, cleaning products, & weed killers can be a threat to people and the environment if improperly discarded. Never throw these materials into the trash as the toxic chemicals may harm sanitation workers, or result in fires in collection vehicles. It is also not safe to pour them into a sink, ditch, or storm drain as they can end up in the environment polluting the air, water, or soil.
Download printable PDFs of the flyers above here: English or Spanish.
If you have questions call (757)787-2936 ext. 115 or email salexander@a-npdc.org.
Please CLICK HERE for a comprehensive table that provides information for both Counties for the proper disposal of questionable waste materials!
The Northampton County Sheriff's Office offered their annual Prescription Drug Take-Back Event on Saturday October 22 from 10am to 2pm!
Household Hazardous Waste Collection
The Eastern Shore of Virginia Ground Water Committee has held an annual Household Hazardous Waste Collection since 2004. The Ground Water Committee has worked with various partners including: Accomack County, Northampton County, Eastern Shore Soil and Water Conservation District, Virginia Department of Conservation and Recreation, ESO Arts Center, Virginia Department of Environmental Quality and the Accomack-Northampton Planning District Commission to make these collections a reality.
The collection is organized to protect the Eastern Shore's groundwater from illegal disposal of material onto the ground or through septic or sewer drains. No commercial or industrial waste is accepted. Almost 600 people have participated and over fourteen tons of material have been removed from the Eastern Shore since 2004.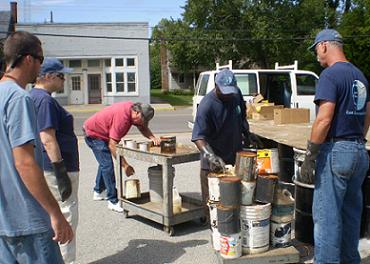 Household Hazardous Waste Collection Historic Summary

Year
Site
# Participants
Pounds Collected
Total # Participants
Total Pounds Collected
Notes
2017
Eastville
15
809
53
2,994

(1.5 tons)

Some paint accepted
Painter
12
792
Fishers Corner
26
1,393
2016
Birdsnest
21
991
60
2,328

(1.1 tons)

Paint not accepted
Grangeville
14
284
Horntown
25
1,053
2015
Birdsnest
20
612
99
3,402
(1.5 tons)
Paint not accepted
Tasley
43
1,450
Chincoteague
36
1,340
2014
Birdsnest
17
522
50
1,762
(0.8 tons)
Paint not accepted
Fishers Corner
28
1,123
Makemie Park
5
117
2013
Birdsnest
21
617
102
4,270
(1.9 tons)
Paint not accepted
Painter
47
1,964
Horntown
34
1,689
2012
Eastville
33
2,017
33
2,017
(0.9 tons)
Paint not accepted
2011
No Collection Held
NA
NA
NA
NA
Funding limitations did not permit 2011 event
2010
Chincoteague
95
7,326
95
7,326
(3.3 tons)
Paint accepted
2009
Eastville
unknown
unknown
unknown
unknown
Pesticide cleanup day held in place of HHWC
Tasley
unknown
unknown
2008
Eastville
44
2,781
44
2,781
(1.3 tons)
Paint accepted
2007
Oak Hall
25
1,688
25
1,688
(0.8 tons)
Paint accepted
2006
Belle Haven
38
1,302
38
1,302
(0.6 tons)
Paint accepted
2005
Belle Haven
43
3,656
43
3,656
(1.7 tons)
Paint accepted
2004
Belle Haven
54
4,260
54
4,260
(1.9 tons)
Paint accepted
Program Totals
696
37,786
(18.9 tons)
*