/
/
/
Climate Adaptation Working Group
Climate Adaptation Working Group

In 2012, the A-NPDC assumed the role of lead agency for the Eastern Shore of Virginia Climate Adaptation Working Group (CAWG) to coordinate efforts among local, state, and federal representatives of government, aquaculture, agriculture, and community organizations to better plan and mitigate risks associated with climate change and sea level rise. CAWG's mission is to provide educational outreach and develop planning tools to assist local governments and residents. To date, CAWG has hosted multiple public workshops addressing sea level rise and developed flood vulnerability models utilizing high-resolution LiDAR elevation data for the region. The group is also working to gauge public sentiment and solicit knowledge and personal anecdotal accounts of what local residents have experienced in terms of changes related to sea level rise and climate change.
Quarterly CAWG Meetings
Please save the dates for the 2017 quarterly meetings, which will be held at the VIMS Eastern Shore Laboratory in Wachapreague, unless otherwise posted.
May 9th Full Agenda Here
August 29th – CANCELLED due to inclement weather.
November 2nd, 10:00am – Noon. Draft Agenda Here
February 7th, 1:00pm – 3:00pm.
Online Resources/Tools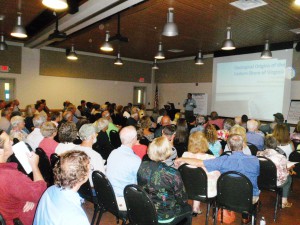 Plans and Publications
Transportation Infrastructure Inundation Vulnerability Assessment Report – ANPDC May 2015
TIIVA Summary Presentation – January 2015
2014 Coastal Change Archive Report – All of the data can be accessed on the VCZMP Coastal GEMS website in the 'Coastal Land' section.
Basic Understanding & Teaching Resources
Newsletter
2018
2017
2016